Custom Semi Truck Mud Flaps
Basic Info
Model Number: SYMF001
Size:Can Be Customized According To Customer Demand

Additional Info
Packaging:Pallets and winding membranes/Can be customized according to customer demand

Productivity:100000/month

Brand:SY

Transportation:Ocean,Land,Air

Place of Origin: Shanghai
.China
Supply Ability:100000pcs/month

Certificate:ISO9001

HS Code:4008210000/4016910000

Port:Qingdao,Shanghai

Product Description

Personalized Mud Flaps

Use your mud flaps as a visual means of displaying your message. Personalizing your mud flaps with your name or logo is an excellent form of inexpensive advertising, promoting your name wherever your trucks go!

• Unique bonding process produces the best looking, smoothest finish, personalized mud flaps on the market.

• Mud flaps are made of high quality masticated rubber with tough flexible tire cord to resist tearing and waving.

• Endures severe road and weather conditions.

• Low cost set-up charges.

• Quick turn-around time.

• Quantity discounts.

• We can make or reproduce virtually any decal or logo.

Whether you need a plain or customized truck, trailer or tipper
Rubber Mudflap
we have the best performing mudflap in all sizes and styles for you. Having our own in-house rubber mixing and molding capability ensures we offer our customers access to a perfectly designed, weighted and molded made rubber mudflap that out performs the competition. We treat your mudflap as an advertisement for your company and hence we take every step to ensure that they are manufactured to the highest standard.

manufacturing process (refer to our video) has produced premium moulded

Rubber Mudflaps
for over 20 years and our customers believe they offer an authentic look with proven and long lasting performance. Our process ensures that your design/logo is fully moulded in rubber,If you have any

Custom Rubber Products
, you can customize it with us,
Rubber Stair Treads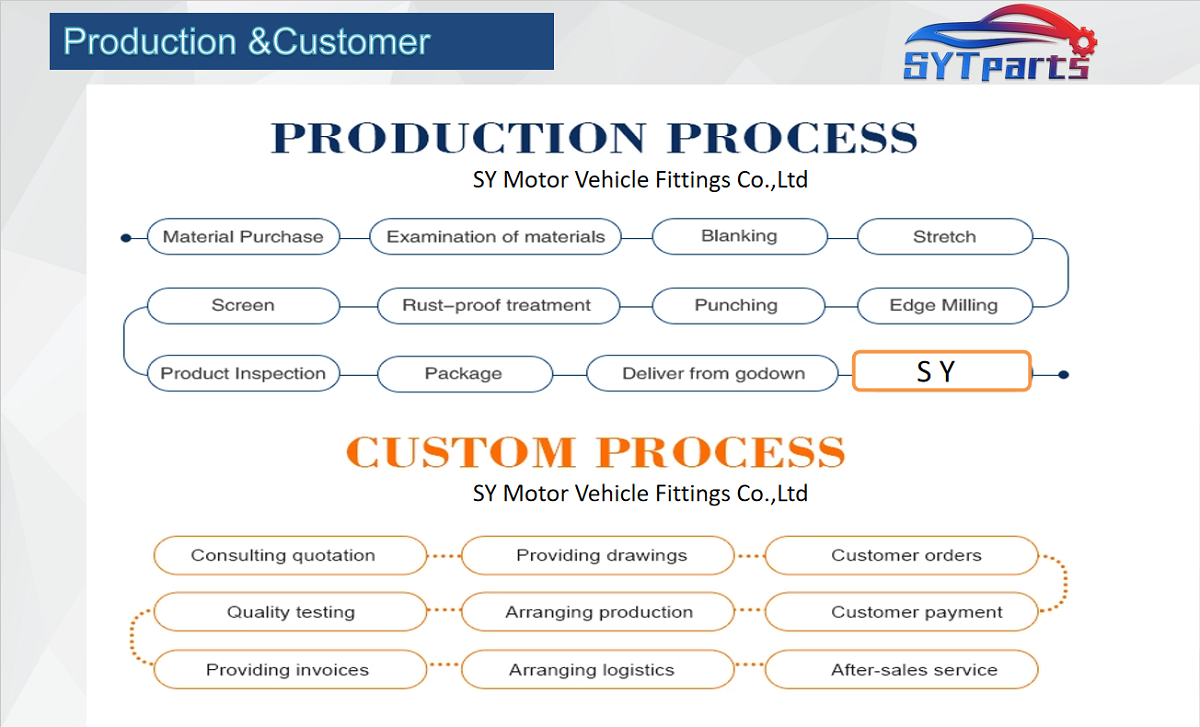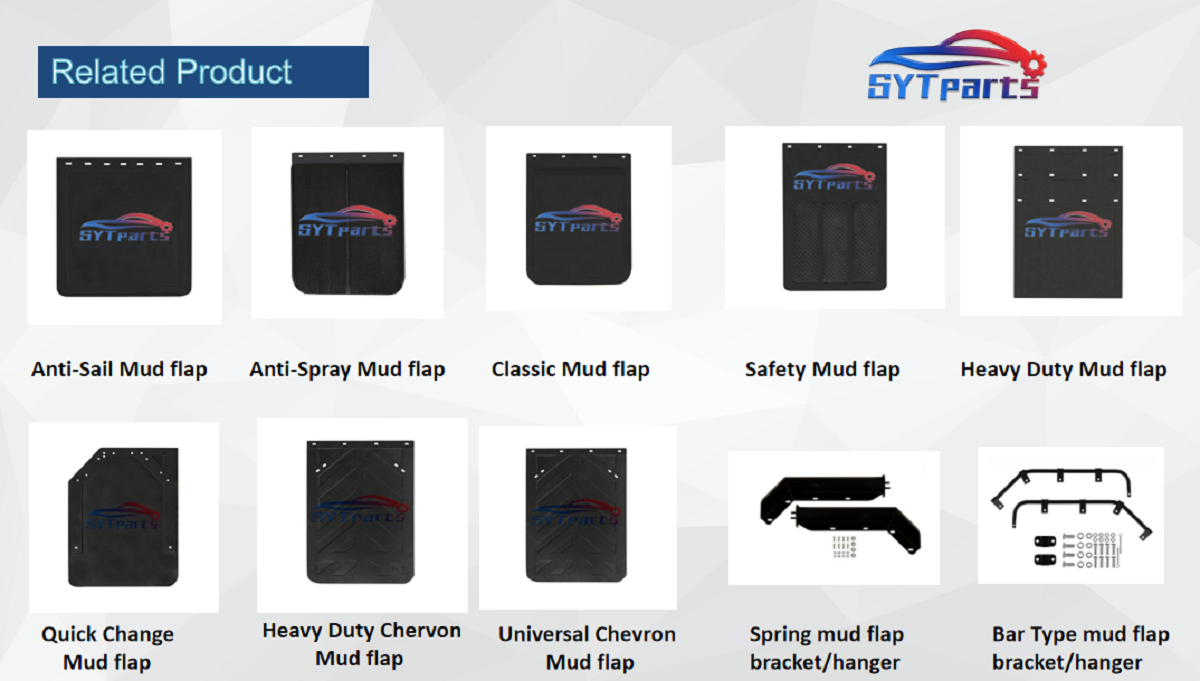 Price List






A mudflap or mud guard is used in combination with the vehicle fender to protect the vehicle, passengers, other vehicles, and pedestrians from mud and other flying debris thrown into the air by the rotating tire. A mudflap is typically made from a flexible material such as rubber that is not easily damaged by contact with flying debris, the tire, or the road surface.


Mudflaps can be large rectangular sheets suspended behind the tires, or may be small molded lips below the rear of the vehicle's wheel wells. Mudflaps can be aerodynamically engineered, utilizing shaping, louvers or vents to improve airflow and lower drag.



Custom molded Mud Guards are made from durable, rubber that's as tough as nails (or rocks for that matter). With a growing number of "No Drilling Required" applications, they're easy to install, conform perfectly to your fenders, and protect your ride and those around you from the rage of the road. Let them splash guards do the work.


What colors are the Mud Flaps availabl


e in?


We have black white and yellow mudflaps. However we can help with custom colors, contact your sales representative to see what options are available. There is usually a minimum requirement for custom colored flaps.



What is your warranty on the Mud Flaps?



SY mudflaps carry a (1) one year warranty from date of purchase against breakage, curling and separation under normal operating conditions within the recommended service temperature of -40oF to +150oF.




What size of Mud Flaps do you offer?


We offer the most common standard sizes, sizes are 24''×18'', 24''×24'', 24''×30'' and 24''×36''. We can also custom cut flaps to different sizes for a small fee as well; price will be based off the flap size sold prior to the cut.



What is the minimum order on your Mud Flaps?


We do not have a minimum order requirement for flaps; pricing is based on three factors, material type, size of flap, and quantity.



Are the Mud Flaps sold as pair or individually?


Are flaps are sold individually, again pricing is based on quantity, material type and size of flap. Please factor in your quantity based on single flaps though.



Do you offer custom logo mud flaps?


Yes – we can do custom logo flaps based off of your logo. We require the logo to be in either a .PSD or .AI file format in order for us to duplicate the logo.



What material is your mud flaps available in?


We offer four types of flap material, both Rubber, PVC, Plastic and PE+EPDM. They all have their own characteristics


What is the thickness for your mud flaps?


Thickness for Rubber is 1/8'', 1/4'', 3/8'', and 1/2''. Thickness for Poly is 1/4''.


I don't have a custom logo, can I just do lettering?


Yes – we have standard block letters available in 2, 3 and 4in sizes. We also have several stocked clip art logos that you can create a nice custom look with little to no setup cost. Please review our flap stock chart for logos and letter sizes.



Can you create a custom logo for me

.
No – we do not offer graphic services, we do have an in house graphic designer and his time is valuable. If in house work is needed to re-create or re-image your standard logo, a fee maybe charged depending on time.



Is there a setup fee for logo flaps?


Yes there is a One-Time setup charge on custom logo flaps using your own logo provided to.




What colors do you offer for logos and if my color isn't available can you get it?


We have a wide array of standard colors available as well as several metallic films. Please refer to our logo color guide for options. If your color does not appear, we can custom color match it using your Pantone numbers. There is a minimum amount that needs to be ordered however, so best to try to come close or order the minimum requirement for custom colors. Please contact us for MOQ.



How is the logo applied to the flap?


We hot stamp the logo into our flap using vinyl material. Unlike a lot of other suppliers out there, we do not print the flap, which usually results in your logo fading or scraping off. Our logo being hot stamped will last the life of the flap itself and is virtually impossible to rub it off under normal operating conditions.



Does your mud flaps require a mounting bracket?


Yes – in most cases you will need to attach your Mud Flap to a mounting bracket arm. There is a wide array of mud flap mounting brackets available, You can also mount the flap to the bottom of our Fenders, we recommend slotting the bolt hole however so it will tear off easier, or use our Fast Flap mounting hardware to install. We do not recommend however mounting flaps to the bottom of the Fenders with the optional light boxes. This will void the warranty on the fender box itself as damage may occur and backing plate separation can happen.



Do you supply a sample of proof of the flap layout?


Yes – a proof showing measurement, size, quantity, color and layout will be supplied for representative so production can begin. For a sample, your territory salesman would have a small sample of the material if you would like to review the flap as well.



What is the lead time on Mud Flaps?


We keep a large stock of Mud Flaps in house, our turn around times are very short, some of the best in the industry. Depending on the shipPable location, we can generally have flaps out to you within 2 weeks after acceptance of proof.



Do you offer stock logo flaps?



Yes we do, please refer to our stock flap sheet again to review. We have several safety flaps as well as quite a few truck make flaps available for purchase. Accessory or stock logo flaps are sold as a pair and our priced as a sold pair item.



What determines your flap pricing?



Three major factors, (1) Size of Flap, (2) Quantity of Flaps and (3) Material type.




Your flaps are squared on the corners, can I get rounded or angled cut corners to fit my brackets?


Yes – at time of layout, we can specify a rounded corner or angled cut; this will need to be provided to us first. To determine angle cut – we go off the top measurement in, and the side measurement down. A small labor fee will be charged for custom angles and / or rounded corners.

Custom Semi Truck Mud Flaps
Sumber: http://sytpart.com/product-9299-59182.html